The Ultimate Guide To Scoro Pricing : Project Management Software
Every business requires a certain amount of money. The cost factor is an important element of any company. You'll learn all about scoro pricing and scoro in general in the following post.
Price factor is an essential part of any business. In the following post you'll learn all about scoro pricing and scoro in general.
Scoro has become one of the most popular project management software solutions on the market because it's so easy to use and affordable for just about anyone!
Scoro:
Scoro is a multi-faceted program that includes all the features you may want in project management software, including projects and tasks, contact management, quotations, team collaboration, invoicing, and reporting.

Features:
1) Sub-tasks and deadlines are used to make projects more organized:
One of scoro's most useful features is the ability to set sub-tasks and deadlines for each task.
This allows you to be more organized, planning out projects down to a tee by setting different tasks with their own due dates.
In addition, scoro lets users schedule recurring project activities - making it easier than ever before!
By inputting all relevant information from start date through completion date in scoro, schedulers can save time on having to enter this data multiple times throughout a long project life cycle.
2) Scoro users can use the scoro calendar to stay organized:
With scoro's built-in scoro Calendar, you will never miss another important event.
All events are listed on your scoro Dashboard so that they are easily accessible at any time of the day.
Events show up as cards with a description and image attached - making it even easier to see what is coming next!
The Scoro Scheduling Assistant helps you plan out projects by keeping track of deadlines and due dates for tasks without having to do all the work yourself!
3) Scoro is a fully customizable program:
Scoro has everything you need to manage projects, but scoro also provides users the option of customizing how they work.
Whether it's changing scoro project view or updates preferences (e.g., what categories and tags are displayed), scoro gives you complete control over your own scoro experience!
As previously mentioned, scro allows for sub-tasks which can be used as an organizational tool - ensuring that all tasks and deadlines are met and accounted for.
4) Scoro can integrate with other software:
No need to waste time inputting data from scoro into separate programs - scoro integrates with over 100 different software applications!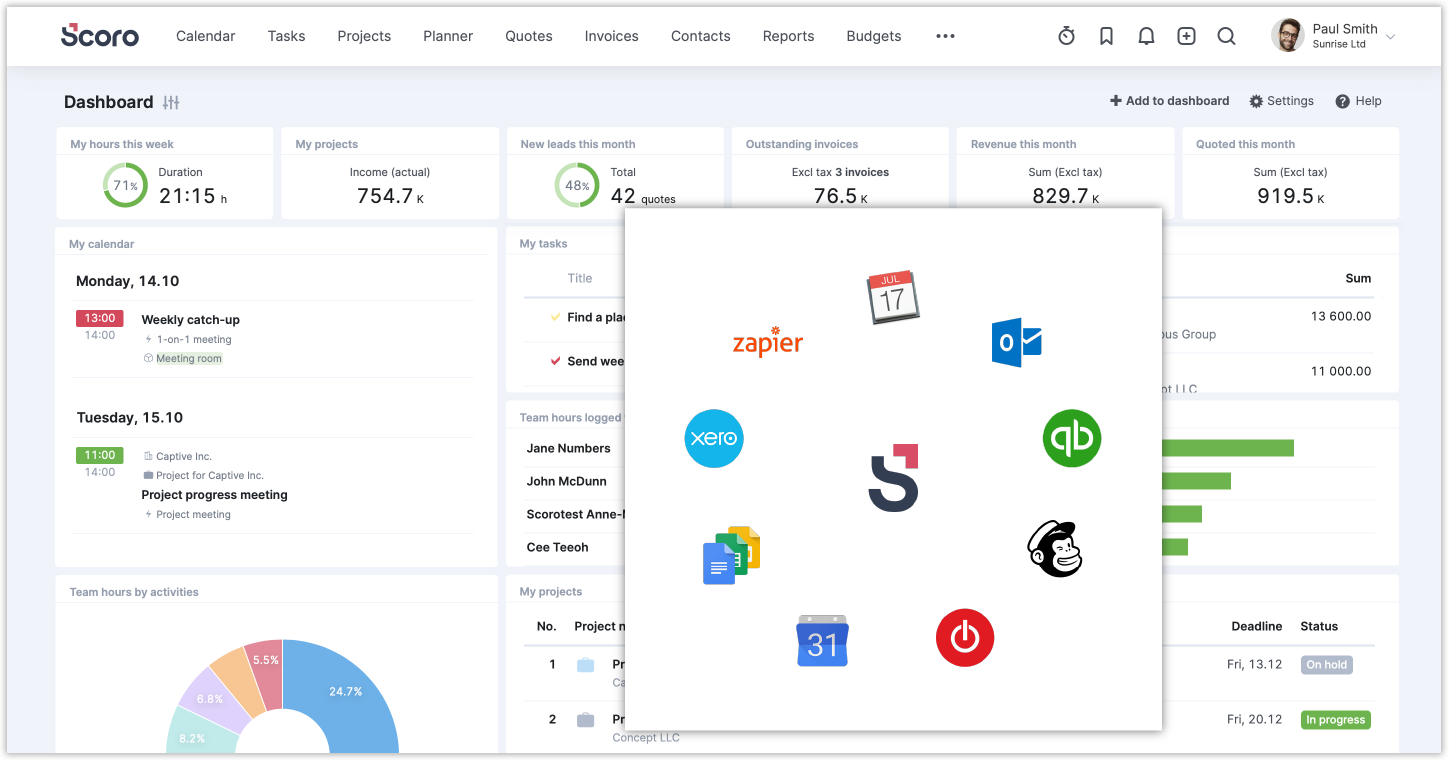 This means that you can save time by having all your project and task information in one place.
Integrations include popular solutions such as Asana, Basecamp, Trello, and more.
5) Worktime monitoring and invoicing:
With scoro, you can not only keep track of the time you spend on each project, but also bill clients for that work!
This is done by creating scoro invoices which include all pertinent information about the project and hours worked.
Invoices can be customized to match your branding, and scoro even offers a wide range of templates to get you started.
You will never have to worry about losing track of time or forgetting to create an invoice again with scoro's automated reminders!
6) Reports on project progress and finances can be generated:
Scoro makes project planning and scoro reporting easy with an extensive array of scoro reports.
Project managers can choose from a number of preset scoro templates or create their own to fit the needs of the user.
Some examples include:
Budgeting analysis shows how much money has been spent on each phase/project, which is useful for estimating future expenses as well as making business decisions down the line.
Project Milestones lets users see at a glance what they have completed versus what work still remains - this helps you stay organized by seeing exactly where your projects stand in terms of progress!
7) Sales and CRM:
Scoro's scoro for Sales and scoro CRM features can help your business get a leg up on the competition!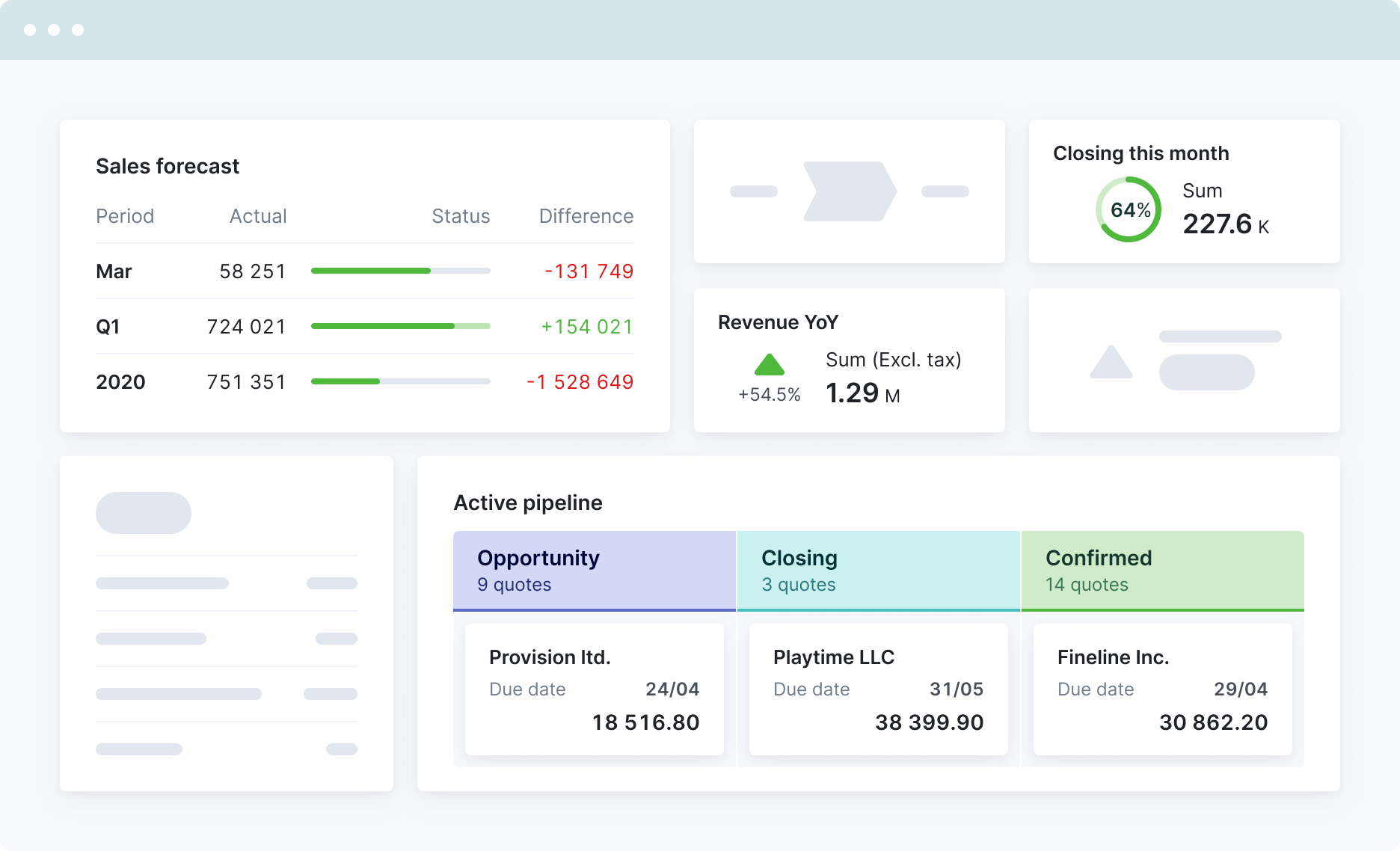 With scoro, you have access to advanced sales management tools such as lead scoring based on customer interactions with scoro.
This allows businesses to stay organized by knowing exactly where their leads are in terms of progress from initial contact through closing deal.
Pros:
You may build a flexible platform that fits your specific needs, rather than being forced to use something a developer thinks you should be utilizing.
Allows for sub-tasks, which can be used as an organizational tool.
Time tracking and management, as well as budgeting, allow you to take a step back and view the big picture rather than using one platform to track time then another to see your budget.
Software integrations make it possible to keep all of your data in one place.
Great interface and user experience: Scoro team has put a lot of thought into making scoro visually appealing and easy to use.
Cons:
Cost: Scoro pricing can be expensive, and scoro may not be the most cost-effective option.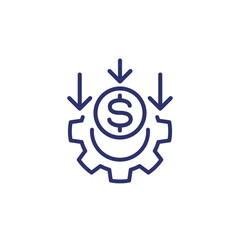 It's not very well linked with Quickbooks. If you want to use billing , you'll have difficulties.
It takes time to set up the sync with Outlook: Scoro synchronization with Outlook takes time to set up.
Scoro Pricing:
The Essentials plan, at $26 per user per month:
This is the most basic and inexpensive of the three plans. Project and calendar tools, task list and board, contact management, quotations, invoices, dashboard, and summary and detailed reports are all included in the Essential plan.
Customer support is available by phone, email, and the knowledge base. You'll be able to access onboarding help if you have 9 or more users.
A spreadsheet view, sub-tasks, and task dependencies are included in the program's task management capabilities, which might be of assistance to users in fine-tuning their tasks.
Users may use pre-designed project templates to speed up the creation process, as well as budget management tools.
The Standard Plan is $37 per user per month
This plan includes all of the Essential plan features, plus Gantt charts, dependencies, phases, milestones, time tracking, templates, purchase orders, and expenses.
The Pro plan is $63 per user each month.
This plan includes everything in the Standard plan, plus more sophisticated tools such as a planner, timesheet, time locking, billable time tracker, sales pipeline, reminders, and other reports are included in the Pro package.
The Ultimate plan includes all available features as well as corporate capabilities like SSO, limitless custom fields, budgets, forecasts, customer portal, and supplier reports among others.
Contact Scoro for pricing if you want to go with Ultimate Plan
Conclusion:
Overall, scoro is a fantastic project management software with a wealth of features that may be customized to suit the demands of any organization.
Although scoro costs may be prohibitive for some small companies, it provides a wide range of options to select from, so that every firm can find one that fits their budget and requirements.
Additionally, scoro's customer service is top-notch, and they offer a wide variety of helpful resources on their website to help users get started.
Scoro is a project management tool that can grow with your business, so it's definitely worth considering if you're searching for an all-in-one solution!


Running an agency?
Clientvenue is an all-in-one client portal and client requests management software.
Learn more